Virtual UK phone numbers are also known as local numbers, Areacall numbers, Ghost Numbers and remote call forward numbers.
Local virtual numbers are mainly used by companies who want to advertise in an area of the UK where they do not have an office. The virtual numbers we supply simply get forwarded to your existing landline or mobile making you look local.
We currently supply local phone numbers in over 470 UK STD codes and we also supply international phone numbers if you want to look international.
Our virtual phone numbers are easy to set up, have no long term contracts and are very cost effective. Here is why thousands of companies use us already:
It only costs £15 to set up a number
The monthly rental for a numbers is just £5
If you route your virtual number to a landline we only charge 3p per minute
If you want to point your local number to a mobile then we charge 9p per minute
Our numbers do not use the Internet or VOIP so the quality is excellent
You can view real time call statistics using our online portal
You can change where your local number is pointing to for free
Your monthly invoice will be fully itemised
Our billing is all per second
There are no hidden charges at all
Order your number during business hours and get it live on the same day
An Example of How to Use UK Virtual Numbers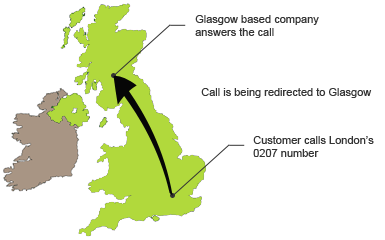 A local builder based just outside of London in Richmond was securing business in his local area because he advertised his local number. Although he was only 10 minutes away from London he never got a call because he didn't advertise an 0207 or 0208 number. We supplied his business with a virtual London number which forwarded to his landline and mobile making him look like he had an office in London. When he advertised the number he found that people called him because they believed that he was local to them.
If you have any questions about Virtual numbers please feel free to call us on any of our local numbers at the top of this page. Below are some questions that we always get asked regarding this service.
Please Find Below Some Example Uses of UK Virtual Numbers:
If you are running multiple companies from one location you can differentiate your calls by giving each of them a number. When the call is received we can play a whisper on the line so that it tells you what business the call is for.
If you are advertising in the Yellow Pages use a local number that is the same as the area you are advertising in. You will get more calls from people who think you are "just around the corner".
If you are in the Yellow Pages advertise in multiple books and use our virtual numbers to give the impression that you are local.
UK Virtual Numbers – Questions and Answers
How long will it take to get a virtual local number set up?
Providing you order your virtual phone number during working hours and we have the stock we will issue you a live phone number on the same day. If you order of an evening or weekend then your order will be processed the next working day.
How much do local numbers cost?
There is a one off set up fee which is £15 per number, a monthly rental which is £5 per number and a pence per minute for the calls received. The pence per minute depends on where you are pointing you local number to. If you point your local number to a landline then the cost is 3p per minute, if it is to a mobile then the cost is 9p per minute and if you point internationally you will need to call us for the rate.
How long is the contract for a local number?
We do not ask you to sign to a long term contract on pay as you go services, but you MUST let us know in writing if you wish to cancel. The minimum term for a pay as you go local number is just 30 days. Bundles will be as per terms and conditions.
Do you sell virtual local numbers to individuals?
We don't any more! We have had serious fraud issues with people ordering local phone numbers and not paying for them. If you want a local number then you must be a company.
I have a landline that I would like to turn into a Virtual Number – is this possible?
Yes, we can do what is called a Geographic number port. We will take control of your local number and then have the ability to point this number anywhere you wish. The only issue with this is that you will only be able to receive calls on your local number and not make any.
Can I turn my local virtual number into a real landline?
No, virtual phone numbers can not be turned into traditional phone lines.
Can I get a memorable virtual phone number?
We can order memorable phone numbers for you but the cost will increase to a set up fee of £99. All other prices remain the same. Please call us to ask about our memorable local numbers.
I don't have a BT landline can I point my virtual number to a cable line?
Yes, it doesn't matter who supplies you with your existing phone line as we can connect virtual numbers to any phone supplier.
I would like to order lots of numbers. Is there a volume discount?
Yes. We consider any order over 10 virtual numbers a volume order. Please call us to ask us about our discounts if you want to purchase 10 or more virtual numbers.
I have spoken to other companies about their numbers and they use VOIP do you?
No, all our virtual numbers are routed using traditional methods. We do not use VOIP at all to connect any of our UK local numbers.