International Virtual Numbers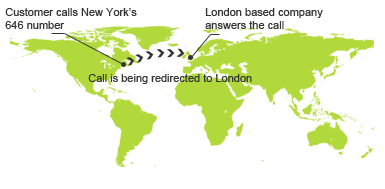 If you need a local presence because your customers will only buy from local suppliers then you don't need to purchase an office, hire staff and navigate international law. All you need to do is purchase a virtual international phone number which will make you look local. We provide virtual city phone numbers in over 4000 cities across the world which will help you create a local image.
Benefits of International Virtual Numbers
Virtual phone numbers are set up on the same day of purchase providing we have the city number in stock.
You can point your virtual number to any UK landline or international landline.
You can change where your virtual number is pointed to using our online tool.
The minimum term for a number is 1 month meaning you can have a local presence to test the market for a very short period.
We fully itemise all calls received so that you know who has been calling you on your virtual number.
Top 3 reasons why people buy International Virtual Numbers:
1

They are selling services in a different country and want to make their customer feel as if they are based locally.

2

They want to give the impression that they have multiple offices in Asia, USA and Europe – but they are based in a small office in London.

3

They want to test market a customer base in a different country and the test will be more successful if a local number is provided.
Our most popular countries: